Think back to the very, very beginning of your marriage or relationship. And if you're not involved with anyone right now, think about the beginning of a past romantic relationship… Can you remember how it felt? Did it start off all rosy and romantic? Were you telling each other, "I love you" every two minutes?
Were you constantly texting each other, looking for any random excuse to connect?
Did you feel nervous and excited at the same time—every time you hung out with your special someone?
And if he or she had some sort of request – "Would you mind taking out the trash?" – didn't you do it happily?
That's how it starts for most new couples…
When you first get together, most of your interactions with him or her look and feel like this:
"I LOVE YOU! I love you! I love you! You're my entire world! No, you're my UNIVERSE. My everything! My Life! AHHH I LOVE YOU! 💕"
But after a while, it tends to look a little more like this:
"love u"
What causes couples to end up like this?
Why do relationships so often devolve into the equivalent of lowercase letters?
Where's the passion?
Where are those ALL-CAPS 'I LOVE YOUs'?
If you're in a long-term relationship—or have been in the past—you probably already know:
The honeymoon phase doesn't last forever.
After a while, the passion fades.
And those butterflies you used to feel? Gone with the wind.
For many couples, the positive emotions I just mentioned are eventually replaced with:
resentment,
rejection,
resistance, and
repression.
Before you know it, arguments start to become a regular part of your relationship.
And instead of resolving them, you let them fester… and fester… and fester…
Until one of you explodes with anger and erupts like a volcano.
For Couples, Communication is everything
I know how it feels.
My wife Amna and I have been there.
In fact, there was a point in our relationship—about a year after we got married—during which we'd let little arguments get so blown out of proportion that we'd go days without talking to each other.
And that's just one of the issues that kept us from experiencing that deeply connected, deeply loving marriage we both wanted.
Eventually, we worked through it all…
But it wasn't easy.
Thankfully, we were both committed to having not just an ordinary marriage, but an extraordinary one.
Now, don't get me wrong here, we still have fights and disagreements.
But here's the difference between now and then:
We now know how to handle them.
Now, instead of getting angry at each other, we can resolve our problems in a way that gives us both an opportunity to feel heard.
In short, we communicate.
Over the years, we studied what healthy, successful relationships have in common.
Then, we took what we learned and implemented it.
Wanna know what we found?
The quality of your marriage or relationship depends upon the quality of your communication.
The quality of your marriage or relationship depends upon the quality of your communication.
The truth is, more and more couples are breaking-up, getting divorced, or settling into a relationship that isn't as fulfilling as they'd hoped—when all they really needed was to communicate and listen to each other.
Maybe that's the situation you're in.
If you are, I want you to know that you don't have to "fix" yourself—or your partner.
What you need to fix is your communication.
And today, my wife Amna and I are here to help you make that happen with our new couples communication course…
Connect—a Couples Communication Course on Transforming Conflict into Connection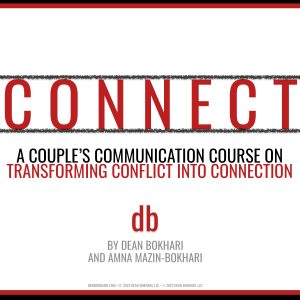 In the Connect Couples Communication Course, we teach you what highly successful couples do to overcome arguments, remain happy, and cultivate lasting love—even when they're frustrated and feel like giving up on each other.
Stop arguing.
Start connecting.
Click here to get the Connect Couples Communication Course now →
Or continue reading to learn more about how Connect can help your marriage or relationship thrive.
What is Connect?
Connect is a self-paced audio course for couples that gives you the fast track to a healthy, happy relationship.
My wife Amna and I created this couples communication course to help struggling couples regain the love and joy they desire and deserve out of their marriage or relationship by teaching simple, powerful, and proven couples communication strategies.
Who this course is for
The Connect Couples Communication Course is for you if:
you're married or in a committed relationship
you're unhappy in your marriage or relationship
you constantly fight and argue with your husband/wife/partner
you are experiencing ongoing communication issues with your partner
you feel as though you're not being heard by your partner, and have too many unresolved disagreements in your marriage or relationship.
What you'll learn
By the time you and your partner finish this course, you'll know:
What happy couples do that unhappy couples don't.
Why compromising doesn't work—and what to do instead.
The proven framework for overcoming arguments—big or small.
The 5 major reasons for conflict in relationships—and how to avoid them.
How to communicate with your partner when their emotions are out of control.
How to eliminate the negative effects of a comment you regret saying to your partner.
And much, much more.
Amna and I also share personal stories on each of the above and more—you don't want to miss this.
What you'll get
🔑 Lifetime Access to the Connect Members-only Dashboard
You'll get lifetime access to your private Connect dashboard, which includes all modules and lessons in the course (and any updates we make in the future.)
📑 Digital Workbooks for Two
Complete with actionable exercises you can both implement for immediate results in your relationship.
🎧 Downloadable Audio Lessons
Easily listen, individually or together. On the road, off the road. On desktop or mobile.
💡 Bonus Audiobook
Audiobook summary of The 5 Love Languages by Gary Chapman
---
Get the Connect Couples Communication Course
Communication to a relationship is what oxygen is to life—you can't have one without it.
To give you a quick overview of what you can expect to find when you signup for Connect, here's a quick look at the curriculum: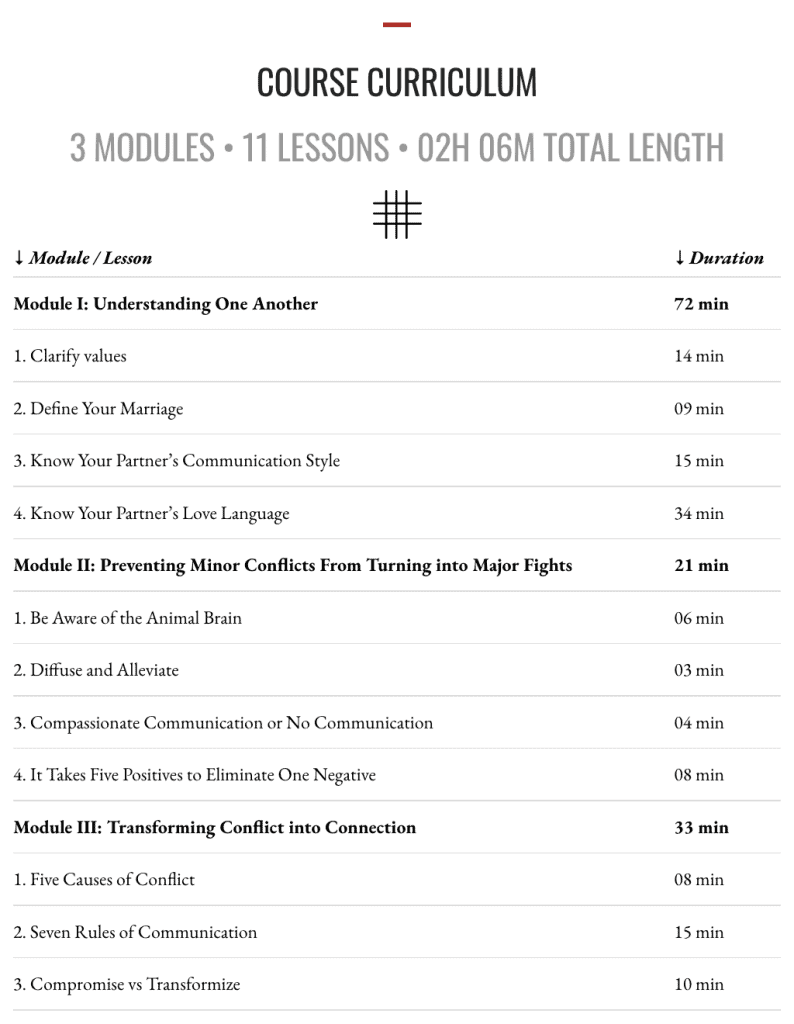 If you're married or in a committed relationship and you're stuck in a cycle of constant arguing, making up, then arguing again—this is the couples communication course for you.
Already enrolled? Login here »
---
See you inside!
—Dean
💡 By the way, I'm offering a 30-day money-back guarantee on the Connect because we're confident you'll love it. If you decide it's not for you, simply email us and we'll process a full refund. You've got nothing to lose and everything to gain.