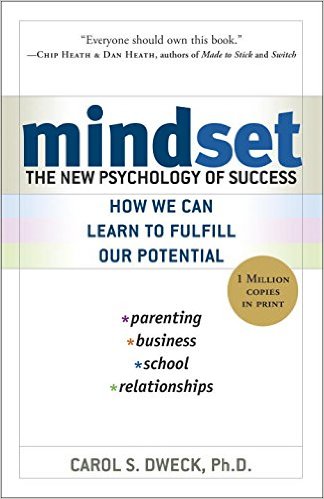 Mindset: The New Psychology of Success by Carol Dweck, Ph.D
Get Book: Print | eBook | Audiobook
Downloads: Book Summary (PDF)
---
ABOUT
In Mindset: The New Psychology of Success, Carol Dweck describes fixed and growth mindsets and how each can have a profound impact on how we strive to reach our goals from childhood through adulthood. Dweck shares a significant amount of fascinating research that supports the idea that intelligence and talent are not fixed traits, but can be grown with perseverance and practice. She provides helpful tips for how to adopt and maintain a growth mindset as well as foster it. Dweck clearly illustrates the impact of each mindset with inspiring, true success and failure stories of some of the greatest sports, education, and business icons of our times.
Here's what you'll learn about in this summary:
The profound differences between growth and fixed mindsets
The power of the growth mindset
How to change your own mindset from a fixed mindset to a growth mindset
Tweetable Summary
Your capabilities are not fixed. You can advance in every area of your life if you're willing to work hard and grow. 
Crucial Quote
"Although people may differ in every which way – in their initial talents and aptitudes, interests, or temperaments – everyone can change and grow through application and experience." — Carol Dweck, Mindset
---
BIG IDEAS
A Person's Intelligence Levels Can Change.

Fixed And Growth Mindsets Are Very Different And Powerful, And They Can Be Changed.

Those With The Fixed Mindset See Effort As Negative.

Early Achievement (Or Lack Thereof) Is A Poor Indicator Of What The Future Holds For A Person.

The Growth Mindset Builds Character—A Key Component To Success.

The Growth Mindset Is Essential For Business Leaders To Have Success.

The Growth Mindset Is An Important Ingredient For Any Healthy Relationship.

Mindsets Develop From Childhood, Often As A Result Of The Messages We Receive From Our Parents.

The Greatest Teachers And Coaches Provide Students With High Standards And A Nurturing Environment In Which To Achieve Them.


The Growth Mindset Is Based On The Belief That All People Can Change.
1. A PERSON'S INTELLIGENCE LEVELS CAN CHANGE.
"At the same time, scientists are learning that people have more capacity for lifelong learning and brain development than they ever thought." — Carol Dweck, Mindset
The nature versus nurture debate has been going on for a very long time, but recent studies suggest that hereditary and environmental factors work together throughout our lives to make us who we are. 
Although people do start out with certain natural strengths, the amount of training, practice, and effort they dedicate to improving their intelligence or skill level can have a major impact on their ability to become experts. 
There are two mindsets or ways that people think about themselves and their abilities. 
The fixed mindset is the belief that the intelligence and qualities a person is born with remain the same throughout his or her life. People with the fixed mindset view failure as intolerable, and spend much of their time trying to prove to themselves and others how smart and/or talented they are. They do not believe in the power of effort.

 

The growth mindset is the belief that with hard work and experience, growth and development occur. This mindset creates a desire to learn. Those with the growth mindset see failure as an opportunity to learn, and they value risk-taking.

 
The power in recognizing the mindsets lies in the fact that our beliefs lead to our thoughts and actions. Those that believe they are born with the only strengths and talents they will ever have will avoid efforts to grow those strengths and talents. Those with a growth mindset will make completely different choices. Luckily, if you have a fixed mindset, you can take important steps to change it.
2. FIXED AND GROWTH MINDSETS ARE VERY DIFFERENT AND POWERFUL, AND THEY CAN BE CHANGED.

 
"The view you adopt for yourself profoundly affects the way you live your life … They're powerful beliefs, but they're just something in your mind, and you can change your mind."  — Carol Dweck, Mindset
The fixed mindset can kill the desire to learn which we are all born with. When kids with the fixed mindset figure out how to assess themselves and compare themselves to others, they become afraid of challenges. As soon as this fear takes over, it squashes the desire to learn.  
They learn that proving their intelligence or talent is the way to achieve success. 
When things get too difficult for someone with a fixed mindset, he or she is likely to become unengaged or give up. Those with the fixed mindset need to be perfect right away because they tend to take failure very personally. Since they avoid challenges in which they might possibly fail, they often have few coping mechanisms. Instead of learning from mistakes, they look for others who did worse than them, blame someone else, or make excuses for their failure.
Those with the growth mindset are willing to challenge themselves and try to learn new things in order to develop their intelligence or talents. They are huge believers in the power of effort.  Failure may be difficult for them, but it is always considered something to learn from. Since they embrace challenges and learn from their failures, people with this mindset not only develop their intelligence and skill levels, but they also develop excellent coping skills.
3. THOSE WITH THE FIXED MINDSET SEE EFFORT AS NEGATIVE.

 
"From the point of view of those with the fixed mindset, effort is only for people with deficiencies." — Carol Dweck, Mindset
People with a fixed mindset believe they have natural talent or intelligence and should not need effort to succeed. They do not believe their deficiencies can be changed, so they see no use in putting forth effort to change them. They tend to develop a fear of failure that is so strong that they refuse to even try if there is a chance they could fail. Effort is scary to those with the fixed mindset because it brings doubt to their greatness, and it removes the opportunity for excuses. They see failure as something that measures and defines them and effort as something they should not need.
4. EARLY ACHIEVEMENT (OR LACK THEREOF) IS A POOR INDICATOR OF WHAT THE FUTURE HOLDS FOR A PERSON.

 
"Just because some people can do something with little or no training, it doesn't mean that others can't do it (and sometimes do it even better) with training." — Carol Dweck, Mindset
The fixed mindset limits achievement while the growth mindset promotes it. 
The low-effort syndrome is one way that students sometimes protect themselves in school. If they don't allow themselves to be measured, they are the ones in control. If they refuse to try, they can't look unintelligent to others. Those with the fixed mindset study for the upcoming test by memorizing information. Those with growth mindsets study to learn rather than just to pass the upcoming test. 
Famous high achievers were studied by Benjamin Bloom who discovered that most of them were not predicted to be successful as children.  It was curiosity, motivation, effort and support that led them down their paths to great success. 
The mindsets of parents and teachers regarding the children they influence have a huge impact on the development of those children. Teachers with fixed mindsets about the potential of their students are dangerous. Those with growth mindsets help their students stretch themselves and reach their full potential. 
Praising children for their abilities is dangerous and fosters a fixed mindset. Praise should instead be given for hard work or effort. In one study, students who were praised for their ability on a test did not want to try a more challenging activity afterwards because they feared it could call their intelligence into question. Those who were praised for effort were eager to take on a challenging task and learn something new. Another hazard of incorrectly offering praise is that placing too many positive labels on students can set them up for major failure later on in life when they can no longer live up to those labels.
Negative labels, of course, can also jeopardize achievement. People with fixed mindsets will obsess over stereotypes and their desire not to fall into them; this distracts them from achieving the success that they could achieve. Those with a growth mindset are better able to see stereotypes as unfair judgments and generalizations and strive to prove them wrong. They refuse to let their failures or other people's opinions of them define them. 
5. THE GROWTH MINDSET BUILDS CHARACTER—A KEY COMPONENT TO SUCCESS.
"Character is what allows you to reach the top and stay there." — Carol Dweck, Mindset
The world of sports is made up of stories of great athletes with natural physical characteristics and talents. Truth be told, most of the greats had to overcome significant physical and mental deficiencies through motivation, hard work, and relentless practice. The greats like Muhammad Ali and Michael Jordan worked extremely hard and learned from their own deficiencies and failures to achieve their greatness. Still, our society likes to call what they had natural talent instead of recognizing that practice leads to improvement and a growth mindset leads to improved performance. 
Character comes from the growth mindset and the idea that when things go wrong, there are effective strategies that can be used to cope with or overcome them. Character gives a person the ability to keep going even when things get really difficult. It is the ability to stretch yourself beyond what you think is humanly possible, to maintain focus and positivity when things get unbearable, and to consistently work hard. 
Those with the fixed mindset focus on proving that they are better than everyone else, while those with the growth mindset strive only to be the best they can possibly be.  They figure out and take the steps necessary to succeed and to keep succeeding. Many great athletes shared that they have found more fulfillment in personal growth than in winning or achieving fame. 
---
👋
Hey Future Member
Continue Reading With a Monthly Subscription
Already a member? Log in here
---