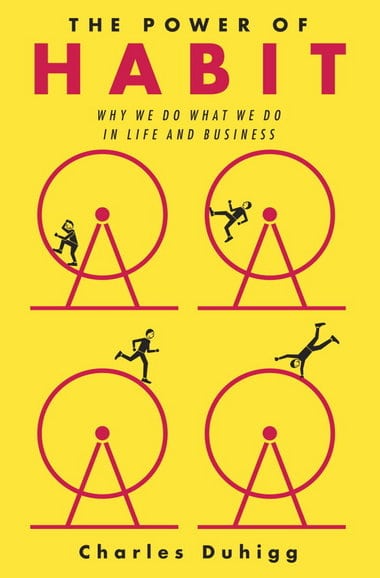 The Power of Habit: Why We Do What We Do In Life And Business
by Charles Duhigg
About
In The Power of Habit, Charles Duhigg, award-winning business reporter for The New York Times, takes us to the thrilling edge of scientific discoveries that explain why habits exist and how they can be changed. By distilling vast amounts of information into engrossing narratives, Duhigg brings to light a whole new understanding of human nature and its potential for transformation.
Along the way, we learn why some people and companies struggle to change, despite years of trying, while others seem to remake themselves overnight. We discover the neuroscience behind how habits work and precisely which parts of the brain they develop and reside within. We discover how the right habits were crucial to the successful promotion of Pepsodent; to Tony Dungy who led his team to a Super Bowl win by changing one step in his players' habit loop; and we learn how a large corporation managed to turn itself around by changing just one routine within the organization.
At its core, The Power of Habit contains an exhilarating argument: The key to exercising regularly, losing weight, raising exceptional children, becoming more productive, building revolutionary companies and social movements, and achieving success is about understanding how habits work. By harnessing this new science, we can transform our businesses, our communities and our lives.
Here's what you'll learn about in this summary:
– How cravings create and power new habits.
– How to apply the golden rule of habit change.
– Why the brain tries to make routines into habits.
– What "keystone habits" are and the importance of them in creating a new routine.
Tweetable summary
We become what we repeatedly do. An extraordinary life, then, depends upon extraordinary habits. —Click to tweet
Crucial quotes
"When a habit emerges, the brain stops fully participating in decision making. It stops working so hard, or diverts focus to other tasks. So unless you deliberately fight a habit—unless you find new routines—the pattern will unfold automatically."
"Willpower isn't just a skill. It's a muscle, like the muscles in your arms or legs, and it gets tired as it works harder, so there's less power left over for other things."
"This is how willpower becomes a habit: by choosing a certain behavior ahead of time, and then following that routine when an inflection point arrives."
Links
Downloads
OVERVIEW
When you woke up this morning, what did you do first? Did you hop in the shower, check your email or grab a doughnut from the kitchen counter? Did you brush your teeth before or after you toweled off? Which route did you drive to work? When you got home, did you put on your sneakers and go for a run, or pour yourself a drink and eat dinner in front of the TV?
"All our life, so far as it has definite form, is but a mass of habits," William James wrote in 1892. Most of the choices we make each day may feel like the products of well-considered decision making, but they're not. They're habits. And though each habit means relatively little on its own, over time, the meals we order, whether we save or spend, how often we exercise, and the way we organize our thoughts and work routines have enormous impacts on our health, productivity, financial security and happiness. One paper published by a Duke University researcher in 2006 found that more than 40 percent of the actions people performed each day weren't actual decisions, but habits.
James—like countless others, from Aristotle to Oprah—spent much of his life trying to understand why habits exist. But only in the past two decades have scientists and marketers really begun understanding how habits work—and, more important, how they change.
This book is grounded in so much sound scientific evidence it'll make your head spin. From case studies, to interviews, to on-sight research projects at some of the world's greatest companies—Duhigg worked hard not to leave any stone unturned when it came to helping us understand the mechanics of habits.
Habits, by definition, are choices that we all make deliberately at some point—and then stop thinking about but continue doing, often every day.
At one point, we all consciously decided how much to eat and what to focus on when we got to the office, how often to have a drink or when to go for a jog. But then we stopped making a choice, and the behavior became automatic. It's a natural consequence of our neurology…
And by understanding how it happens, you can rebuild those patterns in whichever way you choose.
So, are you ready to dive into learning how to make that happen? Let's begin with our first big idea…
👋
Hey…
Still not a member?
JOIN FOR JUST $10 p/MONTH
Already a member? Log in here
---