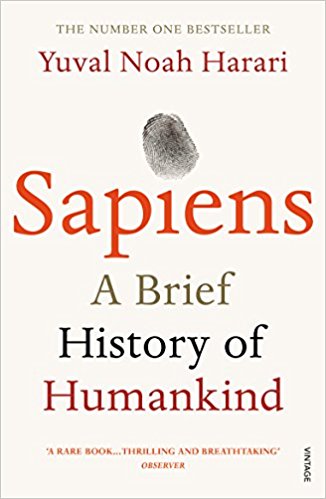 Sapiens
A Brief History of Humankind
by Yuval Noah Harari
Amazon: Print | eBook | Audiobook • Apple Books: Book | Audiobook
Member Downloads
About
Our species, Homo sapiens, started out as just another, biologically insignificant, animal among countless others, but at some point made a very quick "jump" to domination over other species that has left man anxious, destructive, and often miserable despite all our efforts to be happy. Yuval Noah Harari's book, 'Sapiens,' traces the origins, mechanisms, and effects of what we think of as "human progress" from small bands of hunter-gatherers 100,000 years ago to the present-day global network through which our species has come to dominate the entire Earth. This bird's-eye view of human history delves into the development of sapiens' social organization and the structural features of human cultures through which our species has spread, replicated, and evolved, including the breakthroughs of human language with its infinite expressions, the use of the human imagination, and the rise of the concept of a better future that lies just beyond the horizon. Through these mechanisms, our species has evolved socially, rather than biologically, into a species that's increasingly in control of our own destiny. This book considers not only how this evolution has occurred but questions of whether this "progress" has truly been beneficial and how we might, with our awareness of how we got here, decide where we want to go.
Here's what you'll learn about in this book summary:
Although sapiens have not evolved biologically in 100,000 years, we have experienced radical evolutions in the social order driven by our ability to collectively imagine.
History, overall, is moving in the direction of global unity of humankind.
None of the outcomes of history have been inevitable, and the flexible nature of the social order may mean that our species can control its destiny.
And much, much more…
Tweetable Summary
The 70k years of social "progress" experienced by Homo sapiens may not have been good for us, but there's no turning back now.
Crucial Quote
"We study history not to know the future but to widen our horizons, to understand that our present situation is neither natural nor inevitable, and that we consequently have many more possibilities before us than we imagine." —Yuval Noah Harari, Sapiens
---
BIG IDEAS
HOMO SAPIENS.
THE COGNITIVE REVOLUTION.
EVOLUTIONARY SUCCESS &  INDIVIDUAL SUFFERING.
THE POWER OF "SHARED FICTIONS."
THE DOMINANT RELIGION: SYNCRETISM (?)
MONEY = THE GREAT UNIFIER.
THE SCIENTIFIC REVOLUTION.
GROWTH.
THE INDUSTRIAL REVOLUTION.
THE STATE & THE MARKET.
A SINGLE GLOBAL CULTURE.
THE MODERN ERA
---
1.
Homo sapiens.
Our species, Homo sapiens, was once just one of several human species and was not particularly dominant among large mammals.
Harari tells us from the very beginning of the book, that one of the most important things to keep in mind about our prehistoric-human-ancestors is that they were relatively insignificant. In fact, prehistoric humans didn't have any more of an impact on their environment than jellyfish or gorillas…
So, how the heck did we evolve into where we are today?
The species Homo sapiens is one of the genus Homo, of which there were once a number of other species, all now extinct, many of which existed simultaneously on Earth. These other human species evolved as we did from a common ancestor.
Humans, and in particular sapiens, first differentiated from other mammalian species by:
developing very large brains, which take a lot of energy to fuel; and
by their ability to walk upright, on two legs.
These two physical factors contributed heavily to the development of humankind's unique social abilities as well as its problems, including the relatively premature birth of offspring compared to other animals and, as a result, the long period of time they must stay under the care of adults before they can become independent, which has meant a very long period of socialization of the young.
The need to support a large brain and cranial cavity to house it left sapiens relatively weak, physically, compared with other large mammals. Up until 70,000 years ago, the human species, including sapiens, remained somewhere in the middle of the food chain as both predator and prey, with no dominion or significant advantage over other animals.
What they lacked in domination, however, they made up for in leisure and ease of life, as the work of gathering food did not generally consume the entire day.
Although sapiens were spread over a large area of the Eurasian landmass, they were spread very thinly, in small bands that were isolated and independent. Women nursed each new baby for a few years, and therefore would take measures to prevent having a new baby before one was at least three years old. Childhood mortality rates were low as there were almost no childhood diseases to speak of, and infectious diseases in general were rare.
The secret of sapiens' success was their varied diet.
They foraged not only for food but for knowledge about the growth cycles and locations of food sources. For bands to survive, an individual sapiens needed to have an extraordinary range of personal knowledge and skills as well as physical prowess.
2.
The Cognitive Revolution.
"Sapiens can cooperate in extremely flexible ways with countless numbers of strangers. That's why sapiens rule the world, whereas ants eat our leftovers and chimps are locked up in zoos and research laboratories." —Yuval Noah Harari, Sapiens
Although sapiens has not evolved biologically for 100,000 years, it began a radical process of social revolution around 70,000 years ago in what is known as the Cognitive Revolution, a social development that enabled sapiens to spread across the world and achieve biological domination.
At some point, sapiens began a rapid and ever-accelerating ascent to biological domination.
Aided by the development of large brains, a very long period of socialization for the young, and a complex language system capable of an infinite range of expressions, sapiens, through their ability to imagine both individually and collectively, developed sets of shared stories, myths, and beliefs that helped them organize and cooperate more effectively and in larger numbers.
A few factors seem to have contributed to this. An important factor in the development of larger brains was probably the domestication of fire, by which humans could render food much quicker to eat and digest, as well as safer (and also manipulate the physical environment to its advantage in a way that no other animal could). Because sapiens could ingest and digest more food more quickly, its brain was able to grow even larger, precipitating this Cognitive Revolution.
The Cognitive Revolution helped sapiens cooperate in larger and larger numbers and share vital information within their own bands and with nearby bands, forming loose tribes. It also allowed for rapid innovation in social behavior as well as the invention and dissemination of technology—the first of these being bows and arrows, oil lamps, boats, and sewing needles to fashion warm clothes that allowed them to penetrate colder environments.
With the aid of their new inventions, sapiens spread rapidly over the Eurasian continent starting about 70,000 years ago.
As sapiens spread, other human species, including the Neanderthals, went extinct. It is unclear exactly why they went extinct. Some argue that sapiens, although a separate species from other humans, were able to produce fertile offspring with them and that the species merged. Others believe that the dominance of sapiens drove other human species to complete extinction.
The theory that sapiens merged with other human species in various regions of the Eurasian continent gives support to the idea that there are significant biological differences between human "races," an idea that has led to controversial and perhaps dangerous ideological conclusions, including that of Nazi racial ideology. What is clear is that as sapiens spread across Eurasia, then to Australia and the Pacific and to the Americas, other large animal species quickly went extinct and sapiens ascended to the top of the food chain in what is known as the First Wave Extinction.
Long before he invented the wheel, writing, or iron tools, sapiens wiped out about half of the planet's large animal species.
3.
Evolutionary Success & Individual Suffering.
"This is the essence of the Agricultural Revolution: the ability to keep more people alive under worse conditions." —Yuval Noah Harari, Sapiens
The great lesson of the Agricultural Revolution is the discrepancy between evolutionary success and individual suffering. About 10,000 years ago, sapiens began actively manipulating plants—or, as some might see it, plants began manipulating us. Sapiens began laboring to tend to the needs of a handful of very specific plants, the first being wheat and other grains, which it previously gathered as wild grasses, forming permanent settlements around this activity. The advantage of this, supposedly, was to be able to feed a larger number of people and to gain food security by controlling, concentrating, and storing the food source.
Unfortunately, grain cultivation came with a host of drawbacks including an increased labor load for sapiens and a less-varied diet that ill suited the sapiens' body.
Concentrated agricultural settlements also gave rise to infectious diseases among sapiens, whose less-varied diets meant weaker immune systems, and an increase in human violence as they competed for arable land and raided and protected grain stores.
Rates of childhood mortality soared with the spread of childhood diseases and increased frequency of birth, with small children increasingly eating grain rather than mother's milk early in life, weakening their immune systems.
Sapiens had fallen into a "luxury trap," in which a luxury—i.e. surplus grain stores—becomes a necessity and then brings with it added obligations—i.e. cultivating and storing grain.
From an evolutionary standpoint, the Agricultural Revolution was a success in that it resulted in higher birth rates and therefore more replication of DNA copies.
But from the standpoint of individual quality of life, it was a disaster.
One of the effects of the Agricultural Revolution was the development of hierarchical societies in which peasants spend their lives laboring to produce food surpluses that feed a tiny elite of kings, government officials, priests, soldiers, artists, and thinkers. Along with new transportation technology, this enabled them to gather into denser settlements and eventually cities, all connected by commercial networks within ever-growing kingdoms, which in turn enabled the rapid spread and continued innovation in shared mythologies upon which social orders were built and maintained.
Another significant outcome of the Agricultural Revolution was the birth of the concept of the "future," as it became necessary to think about and predict the future (weather patterns, storage of grain for the future, etc.) and possible to do something about it in the form of sowing more crops, building irrigation canals, etc.
The future was yet another imaginary concept that would become crucial in the development of social and economic systems.
👋
Hey…
You'll need a subscription to keep reading or listening
Still not a member?
Already a member? Log in here