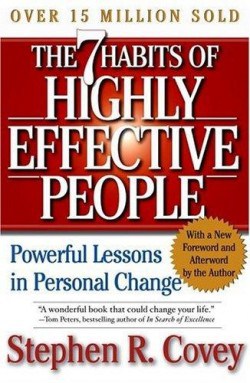 The 7 Habits of Highly Effective People
Powerful Lessons in Personal Change
by Stephen R. Covey
About
When a book sells over 25 million copies and gets translated into over 40 different languages, it's safe to say it contains a useful message. And in The 7 Habits of Highly Effective People, Stephen Covey presents much more than just a useful message, he presents life-changing habits based on universal principles such as kindness and integrity. Covey teaches readers practical strategies for creating the lives they desire and building mutually beneficial personal and professional relationships. The first three habits of being proactive, starting with the end in mind, and putting the most important things in life first are personal victory habits. Habits three through six delve into how to be successful in interactions with others. These habits focus upon working towards win-win situations, seeking to understand others before trying to make them understand you, and learning to be cooperatively creative. Finally, the seventh habit deals with taking good care of your body, mind, and spirit, so that you are fully capable of putting habits one through six into action and reaping their wonderful benefits in your life.
Here's what you'll learn about in this summary:
The important differences between Personality Ethics and Character Ethics
How to see the paradigms in your life as maps; and how to shift them in order to make vast improvements
How to unlearn your most destructive and stifling habits
How to master the 7 habits of highly effective people in order to live a more fulfilling and productive life
Tweetable summary
True success comes from living by principle, priority, and unshakeable character.
Crucial quotes
"The more aware we are of our basic paradigms, maps, or assumptions, and the extent to which we have been influenced by our experience, the more we can take responsibility for those paradigms, examine them, test them against reality, listen to others and be open to their perceptions, thereby getting a larger picture and a far more objective view."
"The significant problems we face cannot be solved at the same level of thinking we were at when we created them."
"We are what we repeatedly do. Excellence, then, is not an act, but a habit."
Links / downloads
Downloads:
The 7 Habits of Highly Effective People by Stephen Covey – Book Summary (PDF)
The 7 Habits of Highly Effective People by Stephen Covey – Audiobook Summary (MP3)
---
BIG IDEAS:
Inside-Out Success (Succeed from within FIRST)
Habits Build Change (It's about more than willpower)
Habit #1. Be Proactive (You can choose)
Habit #2. Begin with the End in Mind (Measure twice, cut once)
Habit #3. Put First Things First (Handle what's important)
Habit #4. Think Win / Win (Don't hate; collaborate!)
Habit #5. Seek First to Understand (Listen, dammit…)
Habit #6. Synergy (1+1 = 3+++)
Habit #7. Sharpen the Saw (PQ, IQ, EQ, SQ)
Missions (Tap into your purpose)
---
1) AN OVERVIEW OF THE 7 HABITS
Throughout the Big Ideas in this summary, we'll get into some practical tips and actionable insights on how to make each of the seven habits part of your daily life, as well as how to put them to use to achieve a higher-level of success in life—both personally and professionally. But for now, here's a quick overview of each habit:
Habit 1: Be Proactive (The power of choice). Being proactive is more than taking initiative. It is accepting responsibility for our own behavior (past, present, and future) and making choices based on principles and values rather than on moods or circumstances. Proactive people are agents of Change and choose not to be victims, to be reactive, or to blame others. They do this by developing and using four unique human gifts—self—awareness, conscience, imagination, and independent will—and by taking an lnside-0ut Approach to creating change. They resolve to be the creative force in their own lives, which is the most fundamental decision anyone ever makes.
Habit 2: Begin with the End in Mind (Measure twice, cut once). All things are created twice—first mentally, second physically. Individuals, families, teams, and organizations shape their own future by creating a mental vision and purpose for any project. They don't just live day to day without a clear purpose in mind. They mentally identify and commit themselves to the principles, values, relationships, and purposes that matter most to them. A mission statement is the highest form of mental creation for an individual, a family, or an organization. it is the primary decision because it governs all other decisions. Creating a culture behind a shared mission, vision, and values is the essence of leadership.
Habit 3: Put First Things First (Organize + execute around priorities). Putting first things first is the second or physical creation. It's about organizing and executing around the mental creation (your purpose, vision, values, and most important priorities). Second things do not come first. First things do not come second. Individuals and organizations focus on what matters most, urgent or not. The main thing is to keep the main thing the main thing.
Habit 4: Think Win-Win (Don't think "Me," think "We"). Thinking win-win is a frame of mind and heart that seeks mutual benefit and is based on mutual respect in all interactions. It's about thinking in terms of abundance—an ever-expanding "pie," a cornucopia of opportunity, wealth, and resources—rather than of scarcity and adversarial competition. It's not thinking selfishly (win-lose) or like a martyr (lose-win). In our work and family life, we want to think interdependently—in terms of "we," not "me." Thinking win-win encourages conflict resolution and helps us seek mutually beneficial solutions. It's sharing information, power, recognition, and rewards.
Habit 5: Seek First to Understand (…Then to be understood). When we listen with the intent to understand others, rather than with the intent to reply, we begin true communication and relationship building. When others feel understood first, they feel affirmed and valued, defenses are lowered, and opportunities to speak openly and to be understood come much more naturally and easily. Seeking to understand takes kindness; seeking to be understood takes courage. Effectiveness lies in balancing the two.
Habit 6: Synergize (When 1+1 = 3 or more). Synergy is about producing a third alternative—not my way, not your way, but a third way that is better than either of us would come up with individually. it's the fruit of mutual respect—of understanding and even celebrating one another's differences in solving problems, seizing opportunities. Synergistic teams and families thrive on individual strengths so that the whole becomes greater than the sum of the parts. Such relationships and teams renounce defensive adversarialism (1 + 1 = ½). They don't settle on compromise (1 + 1 = 1½

) or merely cooperation (1 + 1 = 2). They go for creative cooperation (1 + 1 = 3 or more).

Habit 7: Sharpen the Saw (Do something daily to renew and recharge). Sharpening the saw is about constantly renewing yourself physically, mentally, emotionally/socially, and spiritually. These are your four core human needs; and sharpening your saw is about doing something on a daily basis to maintain or enhance yourself across all four dimensions. This is the Habit that increases our capacity to live all other habits of effectiveness. For an organization, Habit 7 promotes vision, renewal, continuous improvement, safeguards against burnout and entropy, and puts the organization on a new upward growth path. For a family, it increases effectiveness through regular personal and family activities such as establishing traditions that nurture the spirit of family renewal.
👋
Hey!
You'll need a subscription to continue.