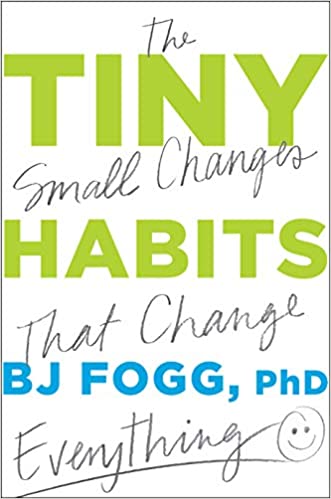 Tiny Habits: The Small Changes That Change Everything
by BJ Fogg
Buy book: Print | eBook | Audiobook
About:
Tiny Habits was written by BJ Fogg, who is the founder of the Behavior Design Lab at Stanford University. He's one of the world's foremost experts on the science and psychology of behavior change, and his work in this area has had a significant impact on the way we approach habit change. Whether we're talking about product development to personal development—if it involves change, BJ Fogg is your guy. And in Tiny Habits, he shares his research-backed insights on habit change and why it doesn't have to be as hard as you think.
Here's what you'll learn about in this book summary:
The key to creating habits that stick
How to use the

Fogg Behavior Model as a framework for creating the changes you want to see in your life

How to use formulas to help new habits take hold
a

nd much, much more..
Member downloads
Links + resources
Tweetable summary
You can start making major changes by taking minor actions. The notion that all change is hard is a myth. In reality, change can be easy if you know the simple steps of behavior design.
---
Crucial quotes
"If there's one concept from my book I hope you embrace, it's this: People change best by feeling good, not by feeling bad." —BJ Fogg, from Tiny Habits
"…bad habits are not fundamentally different from good habits when it comes to basic components. Behavior is behavior; it's always a result of motivation, ability, and a prompt coming together at the same moment." —BJ Fogg, from Tiny Habits
"Once you remove any hint of judgment, your behavior becomes a science experiment. A sense of exploration and discovery is a prerequisite to success, not just an added bonus." —BJ Fogg, from Tiny Habits
---
THE BIG IDEAS
TINY IS MIGHTY
THE FOGG BEHAVIOR MODEL (B = MAP)
PLACE YOUR PROMPT ABOVE THE ACTION LINE
THE ANATOMY OF TINY HABITS
THE 7 STEPS OF BEHAVIOR DESIGN
ANCHOR PROMPTS
EMOTIONS CREATE HABITS
CELEBRATE AND FEEL THE "SHINE"
---
1. TINY IS MIGHTY
It's likely that you've got at least one thing in your life that you'd like to change—most people do. Take a moment to think of that thing you want to change right now…
Would you like to change your diet, and begin eating healthier?
Would you like to change the way you look, by losing weight?
Would you like to change your way of life, by exercising more?
Maybe you want to reduce your stress, or get better sleep. Maybe you'd like to make more money. Maybe you want to become a better parent or partner.
What about your productivity? Are you as effective and efficient as you could be? Or is that an area you'd like to improve as well?
Almost everyone wants to make some kind of change.
But there's a painful gap between what many people WANT and what many people actually DO.
Most people don't eat the way they want, look the way they want or feel the way they want. Despite what they want, many people continue to be over-stressed and under-rested. Their finances are not where they want them to be, their relationships are not where they want them to be. They're not as productive or creative as they want to be.
Why is there such a disconnect between what people want and what people do?
Should people be blaming themselves for not doing the things they know they need to do, in order to see the results they want to see? No.
Should you be shaming yourself if you don't exercise as often as you want? Should you shame yourself if you don't get enough work done today? No, and No.
BJ Fogg, the author of Tiny Habits tells us that it's not your fault if you're not doing everything you want to do. And it isn't as hard as you think to create positive changes in your life either.
It's not you that's the problem. It's your approach to change that's the problem. "It's a design flaw—not a personal flaw."
When it comes to change, "tiny is mighty."
"The essence of Tiny Habits is this: Take a behavior you want, make it tiny, find where it fits naturally in your life, and nurture its growth. If you want to create long-term change, it's best to start small."
---
👋

Hey… 

You'll Need a Premium Subscription to Keep Reading or Listening

Still not a member?

Already a member? Log in here
---